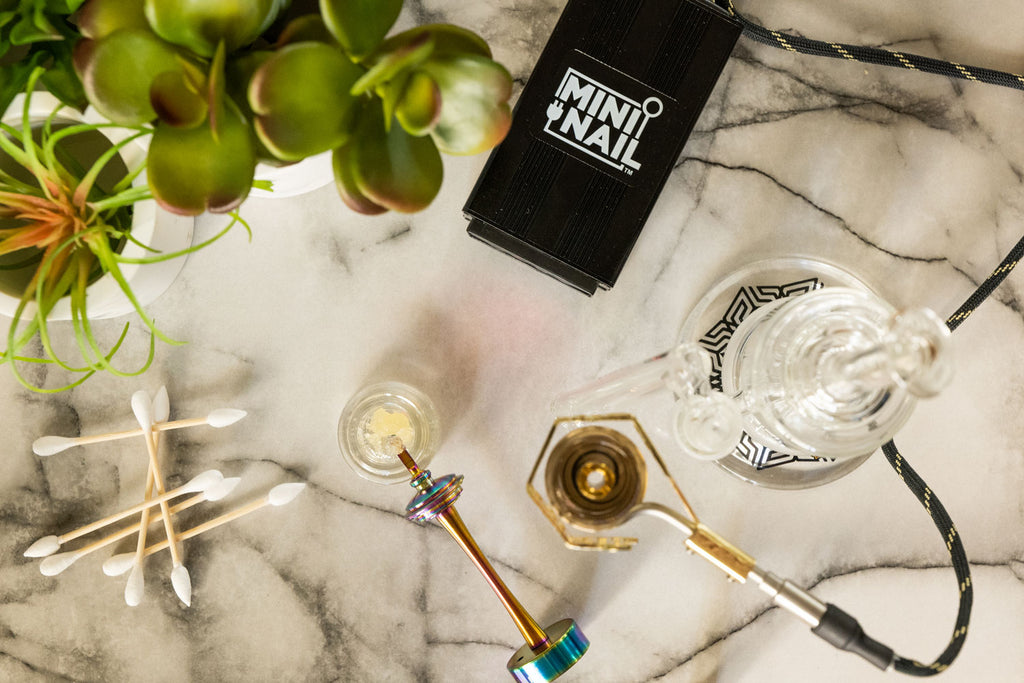 Staying Cool When It Gets Hot: MiniNail Safety Tips
Whether you are new to the world of dabbing or a cannabis enthusiast, safety is our top priority for your dabbing experience. With our sleek MiniNail device and accessories, you will be dabbing safely in style. In this blog, we will cover some safety tips and best practices for dabbing with your MiniNail. 
Find the best Enail temperature
The temperature of your Enail directly impacts your dab experience. For our new dabbers, starting slow at a lower temperature will help you effortlessly ease into any group dab sesh. As for our seasoned smokers, you know that finding the best temperature is at the heart of your dabbing experience. The Enail has revolutionized the way we dab through its convective heating method. Say goodbye to the archaic torch and say hello to Enail euphoria. The convective heating method allows us to indulge our senses in those spicy, sweet, and earthy terpene profiles. 
Overheating your Enail not only burns off those flavorful terpenes but it puts you at a greater risk of burning yourself. Temperatures that are too hot in the 900°F + (482°C +) range can lead to harsh hits and release toxic carcinogens. 315°F - 450°F (157°C - 232°C) is our suggested temperature range to best experience the savory terpene profiles. For more information, our "Dabbing Temperature Guide"  will provide you with an understanding of cannabis concentrates and temperature-based effects to help you find your sweet spot during every smoke sesh. 
Avoid touching hot surfaces  
When things heat up, do not underestimate how hot your dab equipment can get. Touching a hot Enail or dab tool can lead to a serious burn if you are not careful. The stainless steel MiniNail heater coil guard helps to prevent the possibility of any nasty burns or accidents so you can have peace of mind while dabbing. Place your heater coil guard between the heat spacer and adapters on your MiniNail to prevent anything from touching the heater coil. This high-quality heater coil fits on all MiniNail Hybrid Nail variants and will lead to a safe dabbing experience, and the non-stick MiniNail Slab Pads are perfect for protecting your dab equipment. Place your MiniNail Enail setup on the slab pad to prevent burns to surfaces and to ensure that none of your good stuff goes to waste. The slab pads will help your space stay clean, so you focus on what's most important – taking great dabs. 
Invest in the right dab tools
Whether your dab style is a scoop or a sword, using the right tool is essential. Dab tools not only allow you to avoid touching your device's hot surfaces, but they have become a way to customize how you consume cannabis, as different tools correspond to the consistency of your concentrate. Dab tools that combine the tool with the carb cap provide an added safety precaution as they are built-in heat protectors. When buying titanium dabbers, you should be extra cautious of purchasing anything that is not lab-certified Grade 2 Titanium. For an in-depth guide on picking the perfect dab tool, check out our "How to Choose the Best Dab Tool" guide. 
Keep your accessory tools in a coil stand 
When dabbing, it is important to keep your dabbers, heater coil, and quartz in a safe place to avoid any burns or injuries. Mishandling a tool is a dangerous dab faux pas that might just get you uninvited from the next dab session. However, there is no need to worry. We thought of this scenario before it could ever become your reality. With our MiniNail Heater Coil Stand we have you covered - faux pas no more. Our coil stand is the perfect addition to your MiniNail Enail or rig, making it easier than ever for you to keep your accessory tools secure and dab safely in style. 
Secure your glassware 
With the MiniNail Travel Case, you will never have to worry about your E-nail, glassware, or accessories breaking in transit. This high quality, waterproof travel case has changed the game for keeping your MiniNail Enail set secure. Our dab connoisseurs will happy to hear that we have designed all of our cases with pick and pull foam so you can customize the interior to whatever you desire. 
Now that your safety is covered, you can dab with peace of mind while chasing those euphoric highs.