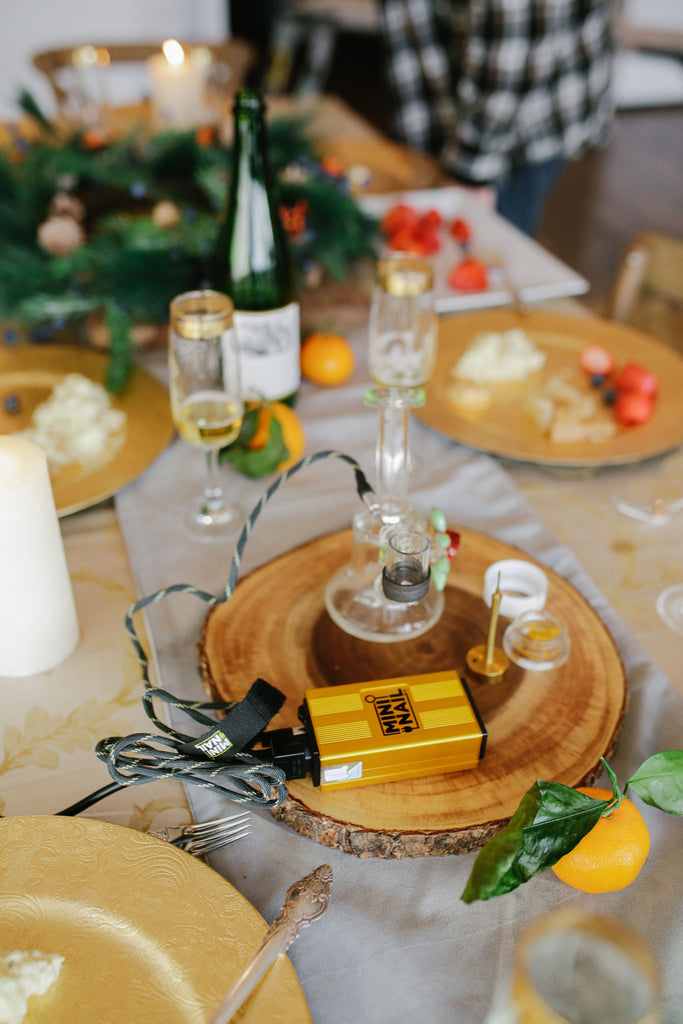 Fall Flavors: Cannabis-Infused Treats to Bake While Getting Baked
As the days get shorter and it starts to get dark at 7pm (ugh), we need to find new ways to light up… literally. With fall just around the corner, we know the best way to stay cozy is by cooking up a few treats to help the high of summer last just a little bit longer. There are so many weed-infused recipes out there, but don't worry, MiniNail did the hard work to weed out the duds, so you're left with the best dabs. 
Before you get started, here's what you'll weed—or, need. In order to make the best baked goods, you're going to need one of three key cannabis-infused ingredients on hand: butter, cooking oil, or milk. You don't need to have all three, but most recipes will call for at least one of the above. 
Without further adieu, here's our list of the best cannabis-infused treats to bake (while you're getting baked).
Weed Pancakes
Redefine wake and bake with cannabis-infused pancakes. We cannot recommend this breakfast option enough. It's the perfect meal to make for a lazy Sunday brunch, and is best paired with a few mimosas and a lot of MiniNail dabs on the side. Our pro-tip? Make a cinnamon maple cannabis-infused syrup for an extra high.
What you'll need: Cannabis-infused milk and/or butter.
Classic Cannabis Brownies
When you think of edibles, you probably think of brownies. But like so many other treats, edibles are best when they're homemade. Why? Because you're in complete control of the recipe. You can add in extra chocolate chips, marshmallow fluff, or even caramel to make a cannabis-infused brownie that will taste completely out of this world. We love this recipe for white chocolate galaxy brownies that are truly out of this world.
What you'll need: Cannabis-infused butter.
Cannabis Rice Krispie Treats
Want to get baked without having to actually bake? This recipe for cannabis-infused Rice Krispie treats is the perfect solution. You only need three ingredients (plus a little MiniNail on the side, for science) to make them, but the taste is still high quality. For a more colorful dish, we recommend a mix of Rice Krispies and Fruity Pebbles.
What you'll need: Cannabis-infused butter.
Cannabis Chocolate Truffles 
Chocolate. Cannabis. Completely delicious. If you're looking to make something sure to impress, you can't go wrong with weed-infused chocolate truffles. This recipe is raspberry chocolate and even though takes a little bit longer to make, have no fear, because MiniNail can be left on in your kitchen and is easily accessible for dabs throughout the process. It's a perfect pairing.
What you'll need: Cannabis-infused butter.
Cannabis Mini Muffins
You've heard of one pot meals, but these pot muffins are so much better. Cannabutter Zucchini Muffins are the (sortof) healthy snack you never knew you needed until right now. This recipe contains a low dose of cannabis that still leaves you feeling high. They are the perfect pregame treat for apple picking, pumpkin carving, or a lazy park afternoon. We recommend packing a few extra for wherever you go, because trust us, you're going to want more.
What you'll need: Cannabis-infused butter.
Peanut Butter Pot Cookies
It doesn't get any peanut-better than this recipe. Weed cookies are the ultimate fall treat and best shared with a bunch of friends. This recipe for Peanut Butter Pot Cookies puts a cannabis twist on a classic recipe that will leave you wanting more. Pro-tip: make a little extra dough and freeze it in cookie-sized bites so you can make more cookies whenever you want.
What you'll need: Cannabis-infused butter and/or oil.
Mini Cannabis Cheesecake Bites
Stop what you're doing and make these right. Now. You will not regret it. Cheesecake might sound intimidating, but these mini cheesecake bites are ridiculously easy to make. Even better? They only take 30 minutes to whip up and will be gone in 60 seconds. We recommend topping with whipped cream and seasonal fruit for a little extra flair. 
What you'll need: Cannabis-infused butter.
While we're all staying at home a little more often than usual this fall, it's the perfect time to learn a few new recipes that will leave you feeling high and satisfied. Making edibles at home is so much easier than you think, and once you have cannabutter or oil on hand, you'll be hooked. So what are you waiting for? Get baking and get baked.