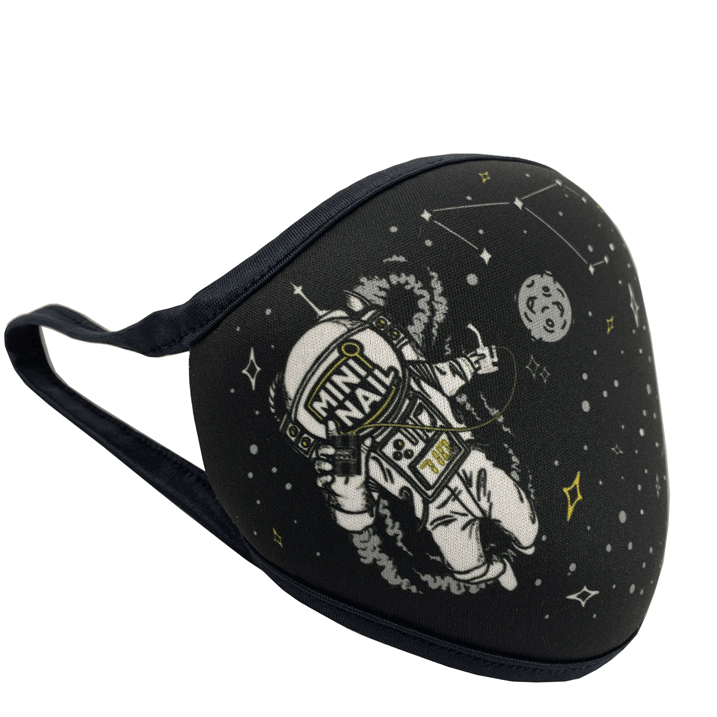 Dabbing During The Pandemic
Look, just because we've all been stuck inside for a few months doesn't mean that we slack off when it comes to our dabs, right? Stocking up, storing, and staying virus-free are all crucial habits to stay on top of during the remainder of this quarantine. Luckily, your friends at MiniNail are here to make sure you're prepared. 
Plus, we're here for you for the long haul: we know purchasing your first MiniNail kit is an investment, so we've come up with a new Sezzle payment plan that helps offset your payments by spreading them out over time. 
Let's Go On A Shopping Spree
Get in dabber, we're going shopping. There still may be a long stretch of a quarantine ahead of us which means you should still prep your stash for the long haul. Here are a few essentials that should always be in-stash and have you going on thrilling adventures in confines of your own place:
Diamonds:

We're not asking that you mine the biggest diamond concentrate you can find from your local dispensary, we're telling you to. Diamonds not only will turn your afternoon into an activity in and of itself, they'll also last beyond quite a few uses. Make sure that you have a diamond or two in your stash so that you weather a solid month of homestay. This can typically last longer than high terpenes extracts as it is not as dependent on flavor.
If you're going to stock up on diamond concentrate, remember to keep your MiniNail at a hotter temperature so that you can spend less time waiting for vapor and more enjoying your favorite couch.  
Shatter:

For those times that require a smoother ride, make sure you order some of that brittle-y shatter. Remember, shatter doesn't require as much of the prep that some of your other stash options will require, so it's crucial that you have enough shatter to cover those hassle-free sessions. For those putting your MiniNail Enail kit to good use, remember to heat shatter at a lower temperature for better flavor and effect. Shatter is typically the most economical of the varieties. 
Rosin: This is more difficult to store because you want to keep it as fresh as possible without losing precious terpenes. We recommend storing your rosin in an air-tight container in a cool environment to keep the terpenes from dissipating away.  
Sauce:

Maybe this was less of a shopping list as it was a reminder that there's a variety of concentrate options that vary in viscosity and partner perfectly with your dabbing setup. Without question, sauce (high terpene extracts) is the concentrate that's quickest to run out of due to the propensity to keep shoveling it into the chamber especially if it has great flavor. This should also be stored in an air-tight container and kept in a cool enviornment.
Okay, I Might Have Bought Too Much
Not sure how to store your abundant stash? Ever accidentally pack a chamber with too much concentrate? That's fine! Seriously! Many dabbers have their own methods for storing concentrate, but we recommend doing the following so that you can keep your stash fresh. The fridge is key!
Short-Term (1-7 days):

 Keep in original containers – as they are a fantastic solution for short term storage. It's better for your container to not be transparent; direct light can contribute to a potency breakdown but not really an issue with short term storage. Just remember to keep it out warm rooms/areas as much as possible. 
Mid-Term (1-3 weeks):

The refrigerator is the still best place to keep week-long storage and will keep your concentrates in a place that's cool and dry. 
The Long Haul (Months)

: Believe it or not, you can actually freeze your stash. It doesn't go without risks; freezing does pose some inherent risk to the concentrated overall potency and can lead to a painful dabbing experience if humidity develops within the concentrate. So, if you go for this option, be sure that the container you store your concentrates in is 100% airtight before putting your stash in the back of the freezer for the long haul. 
As a general rule of thumb, your waxes and concentrates should be kept in a cool, dark place with as little access to open-air as possible. 
Dabbing for Good Health
It's a trying time in the cannabis and concentrate space and being so we'd like to take a moment to remind you of some good-health guidelines that should be practiced when dabbing or restocking. While it can be easy to take care of yourself, remember that those who are still working at dispensaries and operating curbside pickup are interfacing with other hemp fans and deserve the following courtesies:
Wear a mask (but make sure to take it off before you hit your rig):

It's not the hottest look, but it's important to do your part in making sure that you keep your nose and mouth covered while re-stocking your concentrate kits. Your local dispensary staff will appreciate it immensely – and should be following the same rules themselves.
Sanitizer is key, especially if you're dabbing with others: If you're going to share some of your concentrate via a friend's Enail kit, please make sure you're using alcohol prep pads to sterilize your mouthpiece. We also recommend using our new MiniNail x Mooselabs Mouthpeace to keep as safe as possible.  
6 feet, please:

You've probably heard it a million times by now, but for those who are just venturing outside for the first time since March, please refrain from getting within six feet from others while re-stocking your stash. A lot of your local dispensaries are going to require it, so don't be surprised if you see a line wrapping around the block when you pull up.