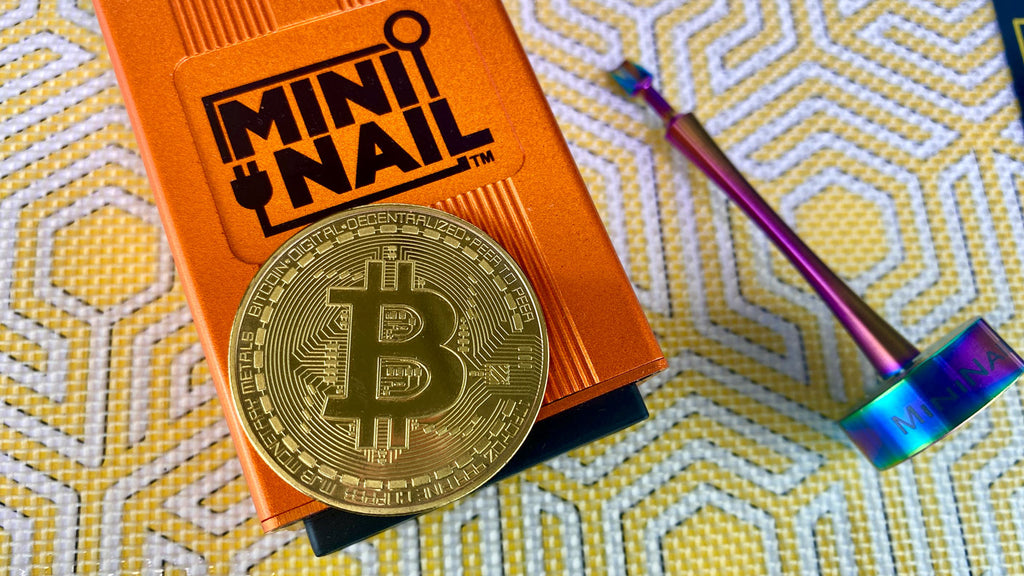 MiniNail Accepts Crypto Payments Through Coinbase and BitPay
MiniNail has always prided itself on offering products that represent the future of dabbing. We're now offering payment options that represent the future of paying. 
Tesla, Square, and countless other companies accept payments in cryptocurrencies, loving their low fees, security features, and ease of use. For all these reasons and more, MiniNail is expanding the cryptocurrencies it accepts to include Ethereum, Litecoin, Bitcoin, Bitcoin Cash, and Dogecoin (DOGE). 
Customers can pay using these cryptocurrencies through the popular, intuitive, and secure platforms BitPay and Coinbase. The future is here and we're ready for it.  
What Payments Does MiniNail Accept? 
MiniNail has accepted Bitcoin since 2017, however, recently it became apparent that widening the cryptocurrencies that MiniNail accepts to Ethereum, Litecoin, Bitcoin Cash, and Dogecoin would be best for our customers and our company. To make paying with cryptocurrencies easier, we've now incorporated BitPay and Coinbase into our payment system. 
We don't just accept cryptocurrencies though. MiniNail also accepts credit card payments from Visa, Mastercard, Amex, and Discover. For customers who want to pay for our products in installments, we also accept Sezzle. Using Sezzle, you can pay off your order in 4 interest-free payments. 
What is BitPay? 
If you're familiar with cryptocurrencies, you've definitely heard of BitPay. It's one of the top Bitcoin and Bitcoin Cash payment processing services that merchants use. By providing a mobile checkout process, BitPay allows buyers to directly transfer funds from their bitcoin wallet to a seller's bank account
BitPay had a huge impact on the establishment of Bitcoin as a dominant cryptocurrency. BitPay was founded in Bitcoin's early days, in May 2011 by Tony Gallippi and Stephen Pair. It enabled Bitcoin to be used in more mainstream ways by making it easy for merchants to accept it. 
The company, which is headquartered in Atlanta, Georgia has a base in more than 38 countries around the world. It has partnerships with several dominant payment firms including Paypal, WordPress, NewEgg, and Microsoft. 
How to Pay Using BitPay 
Once you've picked out some amazing MiniNail products, added those products to your cart, entered our check-out portal, and inputted your shipping information, you'll enter the payment section of checkout. 
To pay using BitPay, click the platform as your payment option of choice. Then click "Complete Order." You will be immediately redirected to BitPay's site to securely complete the purchase. 
A webpage will pop up, with options for "Popular Wallets." Click "BitPay." It will then ask you to choose a currency option. You can pick either Bitcoin, Bitcoin Cash, Etherium, or Dogecoin to pay with. 
It will provide you with a QR code to scan with your order details. You then can click "Pay in Wallet" to pay the required amount for your order. 
What is Coinbase? 
With over 56 million verified users, 7,000 institutions, and 115,000 ecosystem partners, Coinbase is one of the leading mainstream cryptocurrency exchange platforms in the world. It's based in the United States, which it dominates as the most popular cryptocurrency platform in the country, but it also serves over 100 other countries worldwide. 
Known for its ease of use and security, Coinbase's mission is to build up the crypto-economy, a financial system they believe is more fair, accessible, efficient, and transparent than current systems in place. 
The company was founded in 2013 to help consumers exchange Bitcoin but has widened its accepted cryptocurrencies so it now also includes Ethereum, Litecoin, Bitcoin Cash, XRP, and many others. This fully regulated and licensed cryptocurrency exchange platform is supported in every US state except Hawaii. 
How to Pay Using Coinbase 
After picking out some great gifts, and dope dab kits from MiniNail, click check-out and enter your shipping information. Once you get to the payment section select Coinbase Commerce as your payment option. 
A screen will pop up that says, "After clicking "Complete order", you will be redirected to Coinbase Commerce to complete your purchase securely." Do as the message says, and as it foretold you will be sent to Coinbase's secure ordering platform. 
A screen will pop up with your order summary on one side, and payment options on the other. Intuitively, click the blue button that says, "Pay with Coinbase" to pay with Coinbase.
Once you click the button, you either have to sign in to an account or make an account. As soon as your account is logged in or set up you can use it to pay.