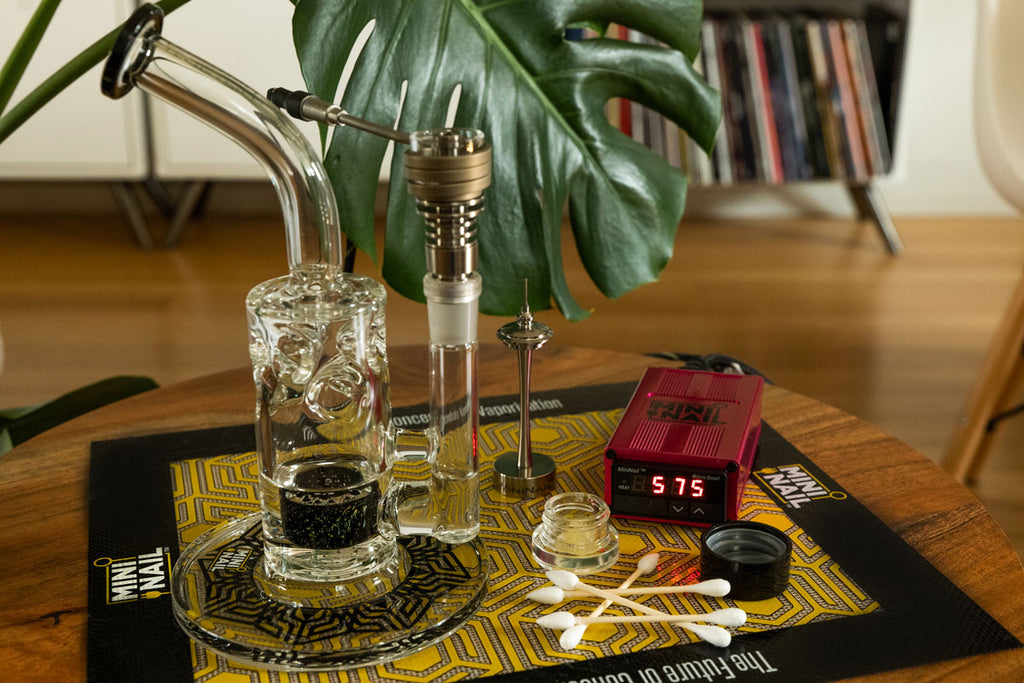 Whether you're a daily dabber or dabbling in dabbing, your station's set-up is so important. 
How high-quality, easy-to-use, and unique your station is will determine how much you use it, and more importantly, how much you enjoy using it. 
After all, dabbing is an experience, and your station set-up determines if it's a euphoric or underwhelming one. 
This list includes everything you need to know about how to set up your dab station, including simple station set-up steps, and great products you can use to complete and personalize your dab station to really make it your own.
Setting Up Your Dab Station is Simple 
Setting up your dab station is so simple you could do it stoned.
Follow the 9 steps below to set up a MiniNail dab station: 
Place your nail accessory into the coil 

Attach the coil to the nail 

Place your nail into the joint of the glass rig 

Make sure there is a slab pad under your set-up 

Insert the coil cable into the MiniNail controller

Plug the controller in 

Set your controller to your desired temperature

When the desired temperature flashes take your hands off and wait five seconds

The temperature will climb to your desired peak 
Those 9 simple steps are all it takes! We saved the best for last though, because the tenth step is enjoying a dab. 
Products You'll Need to Set up a Dope Dab Station 
Now that you know how to set up your dab station, it's time to consider what products you want to incorporate into it. 
Are you looking for a completely unique and fun dab station? 
Do you want a high-quality dab station that ensures you get smooth, flavorful, and potent hits? 
How intuitive do you want your dab station's operation to be? 
Consider these questions while browsing the popular MiniNail products below that you should consider for your set-up! 
Complete Enail Set 
Picking and choosing all of the parts you need to set up your dab station can be overwhelming, especially if you're new to dabbing. 
Keep it simple, get a complete enail set. 
The MiniNail x Slugworth Enail Set with Top Hat Ring has everything you need to start dabbing, including a premium, sturdy, highly functional glass rig that will ensure all your dab hits are smooth. 
Extended Power Cord
Your station doesn't have to stay stationary. 
With an extended Enail Power Cord, you can set up wherever you want to smoke, even if it's far from an outlet. 
Get blazed and don't worry about limited outlet access getting in the way! 
Slab Pads and Mood Mats
Never use your MiniNail, or any enail, without a Slab Pad! 
Not only do MiniNail's slab pads look great, adding to the ambiance of your dab station, they also protect your materials and ensure that nothing goes to waste. 
If you dig our electric original design, you'll also love our spacey Dabstronaut MiniNail x MoodMats, dope Drip Logo MiniNail x MoodMats, and heady Dabheads MiniNail x MoodMats. 
Browse our selection to find the perfect personalized pad for your dab station! 
Heater Coil Stand
After you hit a dab there's so much that you want to do. One of those things is not holding your dabber while you wait for it to cool down. 
Our Heater Coil Stand not only holds your dabber for you but also your heater coil, quartz, and nail. With silver, gold, and rainbow color options, you can even customize it so it matches the rest of your dab station. 
Heater Coil Extension 

Launch into space and have more space by using our Heater Coil Extension. 
You'll have way more versatility because it gives you an additional four feet to move your dab rig around. 
Alexa & Other Smart Home Devices 
Alexa, who has the best dab station set-up? 
You do! 
Don't forget to connect your MiniNail to Alexa so you can make your set-up process even easier. Through connecting with Alexa, or other smart home devices, you can give voice commands to your MiniNail, which is an activity we guarantee will blow your mind after hitting it. 
Coil Guard 
If you can't take the heat, get a coil guard. 
MiniNail's Coil Guards prevent burns and accidents and look fabulous while doing it, with attractive silver, gold, and rainbow designs. 
Never has safety looked so good. 
Terpene Enhancement Spheres
These three little balls will change how you dab forever. 
MiniNail's Quartz Terpene Enhancement Spheres harness kinetic energy to make sure that your concentrate is evenly dispersed, leading to better function and flavor. 
What can we say? These spheres are ballin'. 
Stop dreaming about your perfect dab station and start setting it up. With high-quality products from MiniNail, you can turn your dream into reality and set up the dopest dab station imaginable!