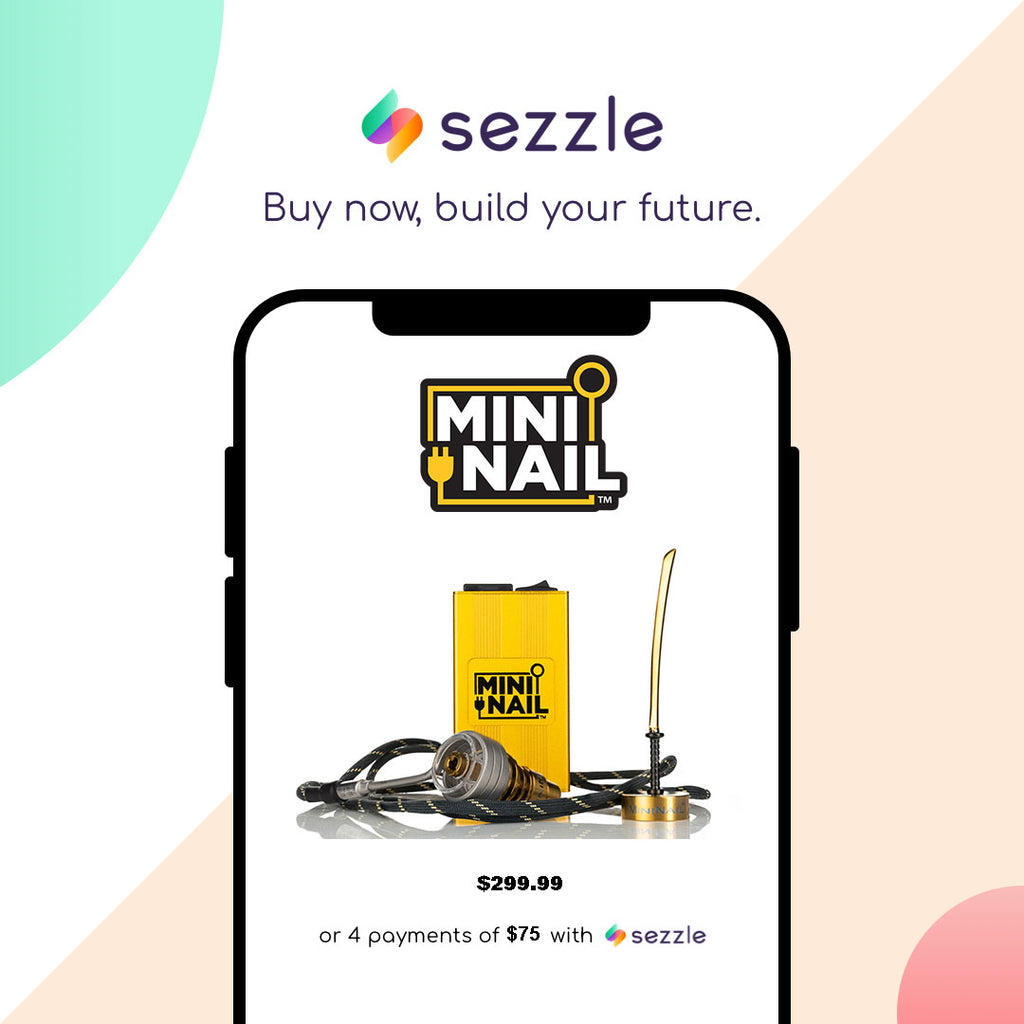 You want nothing more than to buy an incredible MiniNail E-Nail Set. Unfortunately, what you want and what you have in your bank account is not on the same page. 
No problem. 
Through buying with Sezzle your can spread out your payments so instead of making one large purchase, you can make 4 small purchases over time. 
Because of Sezzle, your hopes of buying the Micro-Enail Set of your dreams do not have to go up in smoke. Your dabs will though. 

What is Sezzle? 
You'll pay for this later! 
No, you literally will, because with Sezzle you can spread out payments. This payment solution gives you the freedom to buy what you want now and pay for it later. 
How much later? 
Once every two weeks, for six weeks. There are 4 payments due, each of which is 25% of your order's total. 
Although your paying later, your order is placed immediately. 
Sezzle pays MiniNail in full for orders after you've been approved and paid your first installment. This means that MiniNail doesn't wait on your fourth payment to fulfill your order. You should receive it within our normal, quick shipping and processing time. 
The best part? 
There's no catch. Sezzle doesn't charge any interest or fees unless a payment fails or you need to adjust the date of a payment more than once for an order. The software only runs a soft credit check so there's not even a negative effect on your credit score. 
In other words, what's stopping you from buying with Sezzle right now? 

How to Purchase a MiniNail Using Sezzle
You can easily purchase your MiniNail E-Nail set using Sezzle by following the simple steps outlined below. 
Step One: Pick Your MiniNail Products 
Before you even begin to use Sezzle, you need to decide what MiniNail products you want to purchase. This is indubitably the hardest part of purchasing a MiniNail with Sezzle. 
Why? 
Because there are so many awesome MiniNail products to choose from! 
You could buy one of our classic, acclaimed Quartz Ebanger Complete Enail Kits which comes with a controller box, hybrid heater coil, 25mm quartz ebanger, dabber, power cord, small slab pad, and stickers. 
You could get a one-of-a-kind, limited edition MiniNail x Moldy.Creations Custom E-Nail Set, crafted by acclaimed special effects artist Joe Rowles. 
You could purchase some of our renowned glass rigs, like our Swiss Honeycomb Enail Rig, MiniNail x Slugworth Glass Klein, or our Glass Top Hat Enail Rig. 
You could even get some incredible accessories like Heater Coil Stands, Coil Guards, Quartz Terp Spheres, Dabbers, or a Travel Case. 
Once you finally decide what you want add the products to your cart and click check-out. 
Step Two: Check-Out 
Check-out is as simple as logging in if you've set up an account with MiniNail. If you haven't, then you'll need to add some additional information. 
Nothing too surprising through. Add your address, verify your birthday, accept the Terms and Conditions, and click continue to shipping. 
Once you are at shipping select the shipping method that works for you. Choose between Free Shipping, Two-Day Shipping, and Next Day Shipping. Then click, continue to payment. 
For your payment method select Sezzle and then click "Complete Order." 

Step Three: Setting Up Your Sezzle Account 
You'll be brought to a screen where you can create your Sezzle account by entering your phone number, name, email, and date of birth. You'll also be asked to create a pin number. Remember to write down your pin so you don't have to scramble to find it for future purchases. 
Click "Proceed" and you'll be taken to a screen that asks you to input the code that was texted to your phone. Check your phone and input the code. 
Sezzle will then prompt you to add your credit card information. Once you have, click to move on to the final stage of checking out. This is when Sezzle will approve your account and payment. 
Step Five: Final Purchase 
Finally, you have entered the last stage of your check-out process. A screen will pop up that notifies you what payment is due today and what payments will be due in the future, with the exact dates that payments will be due. 
Write them down, because a late payment will result in fees for you. 
Once you've confirmed that you can pay the first installment. Then click "Complete Order." 
It's as simple as that. MiniNail will rush to fulfill your order, and before you know it you'll have a gorgeous new micro-enail set to enjoy. Having an amazing enail set will make paying the next three installments on Sezzle all the easier.