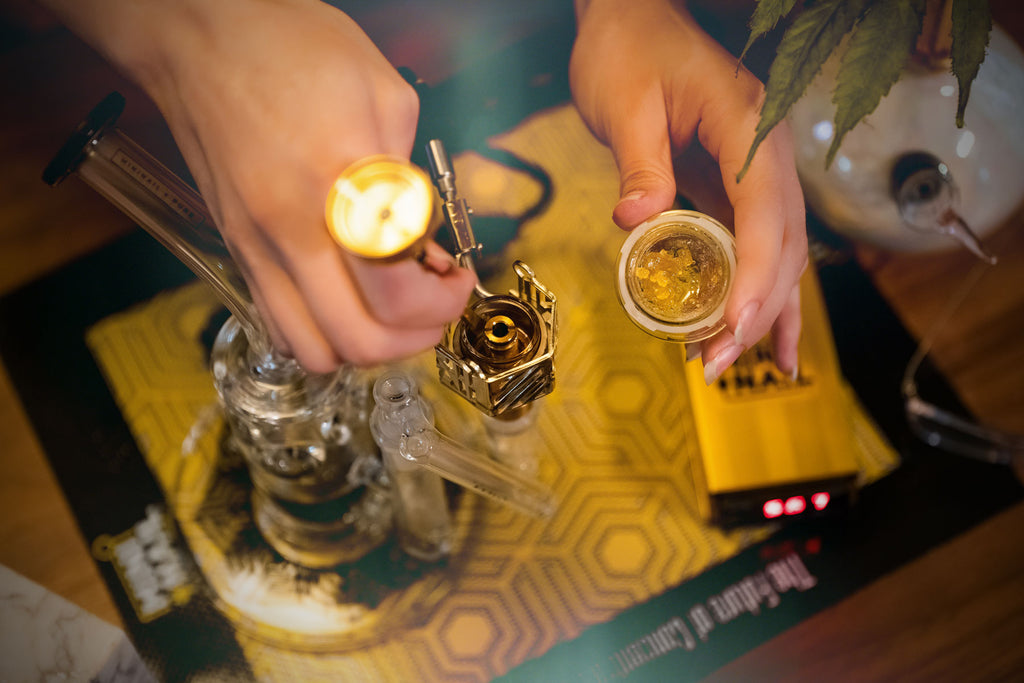 Though most of the in-person gatherings, festivals, and parties on April 20th that we've come to love have once again been cancelled, there's still plenty of reason to dab out alone or with a small group of buddies on our favorite holiday; we deserve a little celebration, right?
From its beginning in 1971 thanks to a group of high schoolers who'd meet at 4:20 p.m to smoke some ganja, the mysterious history of the year's highest holiday has spurred many myths and traditions. Whatever way you choose to celebrate this year, we know there's a MiniNail accessory (or even full setup!) that would be the perfect experience enhancer or gift for any stoner in your life...including you.
Essentials to help protect your gear
Heater Coil Guard and Glass Drop Down
No one likes to get burned cause that just puts a damper on your dabbing time. So, look no further than the new Gen 2 MiniNail Heater Coil Guard to help prevent accidents when using your super-hot enails. It's now more versatile and works with our three main nail types–the 25mm Quartz Ebanger, Quartz Hybrid Nail, and Titanium Nail. Oh, and did we mention it now also comes in rainbow?
For extra protection of your glass joints and rig, get your hands on the MiniNail Glass Drop Down. It lowers the position of your Nail (specifically pairs perfectly with the Hybrid Nail and Quartz Ebanger) to keep heat away and collects reclaim for when times are tough, and you need to save as much concentrate as you can.
Add-ons to bring your blaze to a new level
Quartz Deep Dish Replacement Pack and 25mm Quartz Ebanger
There's no harm in having a backup. Maybe you've banged around your rig one too many times or notice that the deep dish of your enail is looking a little worse for wear. We make it easy to freshen up your dabbing experience with the MiniNail Quartz Deep Dish Replacement Pack, which is designed to work with our Quartz or Titanium Hybrid Nails. Each pack holds two dishes.
Have you had your current enail for, well, a while? It may be time for a replacement to get that optimal taste and superb quality top-notch again, so maybe a brand-new MiniNail 25mm Quartz Ebanger is in store. It's great for both taking the temp up or retaining heat at lower temps for an easy dabbing experience.
The complete set for the optimal 4/20 celebration
MiniNail x PURR Glass Complete Enail Set with Swiss Honeycomb Rig
Let's just go all out for 4/20–it only comes once a year! Okay, maybe if you're like us, you're all about that stoner lifestyle every other day, too. Still, if you want something that will give a "WOW" while being totally reliable and perfect for everyday use, our most popular enail bundle is just for you. The MiniNail x PURR Glass Complete Enail Set with Swiss Honeycomb Rig is the collab for any concentrate enthusiast; completely custom-designed from the ground up to be everything you need in a desktop daily driver. Function, flavor, and ease.
We hope this list will help you choose the best accessories to bring your 4/20 to a high like never before. Always dab responsibly and we hope you enjoy the holiday!