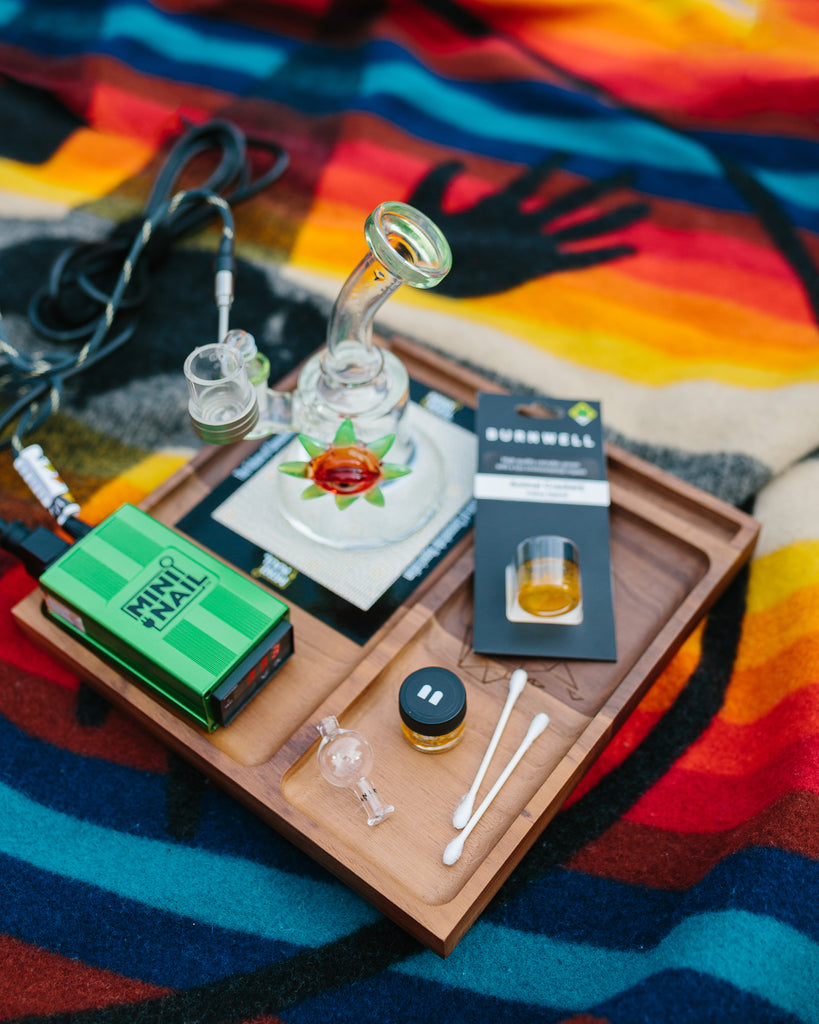 Calling all dab DIY-ers: the tell-it-all guide to at-home enail dabbing has finally come. If you've been busy at work gathering together all the supplies you would need for your personal enail kit, look no further than this post. We've put together a definitive list of all the essentials you need to have the ultimate dabbing experience – no outdated butane torches needed and best of all, no mess.
Curation for Your Concentrates 
MiniNail Controller
On-the-go smoker or stay-at-home toker, your MiniNail Controller is a lightweight temperature controller designed to provide you with a truly customizable dabbing experience. Say goodbye to burns and butane: if you're a regular dabber, an enail controller is the ultimate choice that helps you avoid frustrating setup and clean up all while being safer to use than the traditional torch.
Power Cord
Straight to the point: keep your enail plugged in with this charging cord. Plus, enjoy additional compatibility with a smart plug, should you choose to pair your MiniNail with your smart home devices to optimize its functionalities.
Quartz Ebanger
If you swear by the power of terpenes, a quartz ebanger will quickly become your new best friend. Designed to bring out the most nuanced flavors from your concentrate – all without pooling or cooling off like a torch –  our custom-designed quartz dish provides thick walls with outstanding heat retention even at low temperatures.
Dab Tool with Tips
Are you a self-proclaimed dab-o-nista? Do you like to, as they say, get lost in the sauce? Jokes aside, we know that having the right tool for your concentrate type will make or break your experience. 
Carb Cap
Thick and sturdy, MiniNail carb caps effectively trap the heat, so you can focus on modifying your airflow without worrying about unwanted concentrate cool-down. What's more – MiniNail's new cyclone carb cap design creates more pressure and a vortex when you are melting your concentrates inside the dish. This leads to better vaporization at lower temperatures for better flavor and effect.
With MiniNail's dab tool kit, you don't have to choose just one: just grab a tip pack that comes with five different interchangeable tip styles for various concentrate consistencies.
Glass Rig
Let's be real: the quality of your rig matters. And while you could totally get one from the smoke shop next door to the gas station, you'd be doing yourself (and your enail) a disservice. Investing in a quality rig is essential for your home enail kit. All enail glass rigs are crafted with thick and sturdy boro glass designed to last through all of your day-to-day dabbing needs.
Managing Your Mess-Free Zone
Q-tips + Isopropyl +Alcohol
Keeping your dabbing devices clean as a whistle by stocking up on some specific cleaning supplies. The last thing you want to be coming home to after a long day of work is a sticky, crusty dab rig – so make sure you have a set of Q-tips with isopropyl and alcohol on hand to wipe down your kit after each smoke sesh. Next time you dab, make sure you're prepared to mitigate the mess!
Dab Mat
Keep your surfaces protected with a non-stick mat designed to withstand the messiest of concentrates. 
Keeping the Heat With Your Home Enail Kit
Hybrid Nail + Extra Dishes
Your nail will be the most important part of your dabbing experience – so make sure you grab one that's compatible across all joint sizes as well as made with high-quality materials like titanium and quartz to ensure heat retention. All complete MiniNail kits will also come prepared should your dish happen to grow legs and walk away...you'll find a set of replacement dish packs for your hybrid nail included, or available for purchase on its own. 
MiniNail Heater Coil
Bring the heat and keep it coming with a quality coil for all your home enail dabbing needs. The MiniNail Heater coils come in a variety of sizes and feature:
Flat Coil, 25mm Hybrid Coil, and a range of Hybrid Coil Heating Elements.

A 4-foot Kevlar sheath.

5 pin mini-XLR grounded connection (to extend the coil's longevity and use).

Velcro strap for easy storage. 
Quartz Spheres
Tiny but mighty, these little guys spin around in your quartz bucket to create better vaporization – especially at low temperatures. These spheres are designed to create kinetic energy to help disperse the concentrate for better function, vaporization, and bring out the terpene profiles for better flavor.
The MiniNail Complete Home Enail Kit 
Whether you've already got some of your long-term favorite tools and want to add some quality essentials or are looking to upgrade your entire dabbing experience – MiniNail has got you covered. The thing is, when putting together all of your essentials for an enail kit, it can be tough to gather it all. That's why we're making it easy for you with a one-stop-shop complete enail kit. Ensuring you have a positive, quality home enail dabbing experience each and every time just got way easier with our
MiniNail Complete Enail Kits
that feature all of the above and go way beyond.