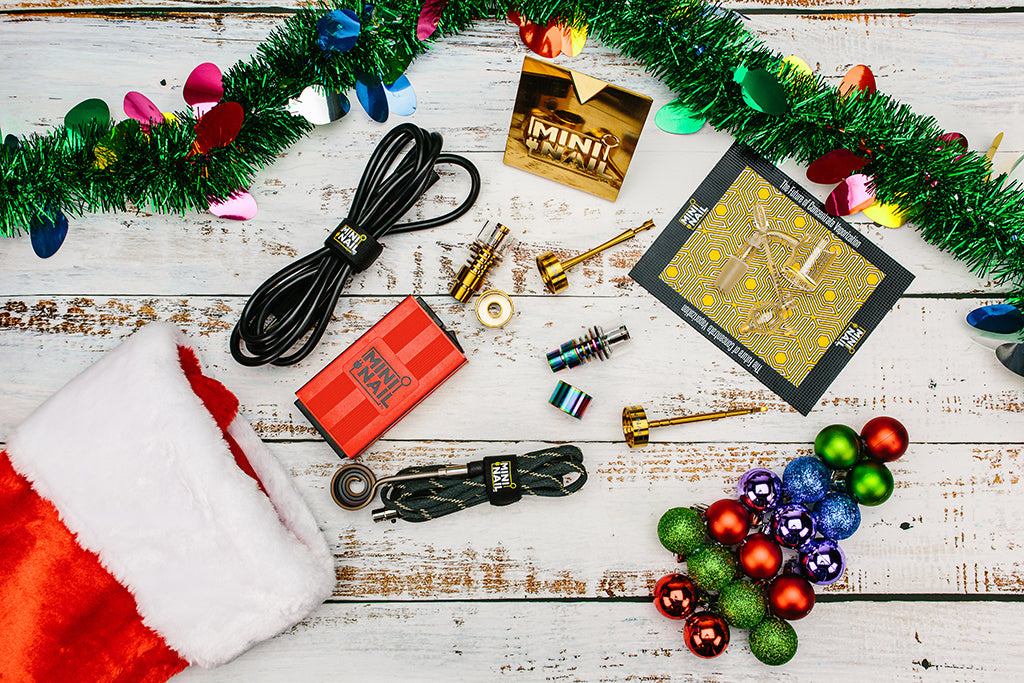 It's that time of year, and the holiday season is in full effect. Don't forget to take a dab or two to relax, and to make your search for gifts a little easier, we have put together some dabbing items to ease you into 2020. Forget the torch, it's time for an e-nail. The only flame should be the one in your fireplace.

MiniNail™ provides the simplest way to enjoy your cannabis concentrates the way they were intended. Variable temperature with pinpoint accuracy, high-quality titanium and a 2-year warranty, and customizable options to fit your personal lifestyle.

Need a quick holiday gift for you or a close friend? Give the gift of superior dabbing:
Best Gifts Under $50 / Secret Santa
25mm Quartz Ebanger
Get more flavor with the MiniNail™ Quartz Ebanger.
Gold Heater Coil Stand
Hold your heater coil and quartz safely with the MiniNail™ Heater Coil Stand.
Glass Shovel Dabber
MiniNail™ Glass Shovel Dabbers are great for scooping concentrates like Diamonds and Sauce. 
Gold Flat Tip Dabber
Designed with a flat tip with curved end that works great to get concentrates out of any container. 
The best stocking stuffers are the ones that lift you a little higher. We have some amazing holiday specials below that fit nice and neat on the mantle.
Best Gifts Under $100 / Stocking Stuffers


Rainbow Quartz Hybrid Nail
Experience the best of both worlds with the excellent heat retention of titanium with the flavor of quartz.
Gold Multi-Tip Dabber / Gold Tip Pack
Comes with 5 Tip styles that are perfect for any type of concentrate you come across.
Quartz Ebanger / Bubble Cap / Quartz Terp Spheres
The ultimate terp pack for the best taste possible. 

If you or a loved one is ready to upgrade your dabbing experience, we have you covered with a custom kit that fits beautifully under the tree.
Best E-Nail Kit to Gift / Friends & Family
Gold MiniNail w/ Gold Quartz Hybrid Nail & Gold Flat Tip Dabber
The perfect holiday gift for any dabber. The MiniNail™ Red & Gold Quartz Hybrid e-Nail Kit is the best enail to get for the holidays.