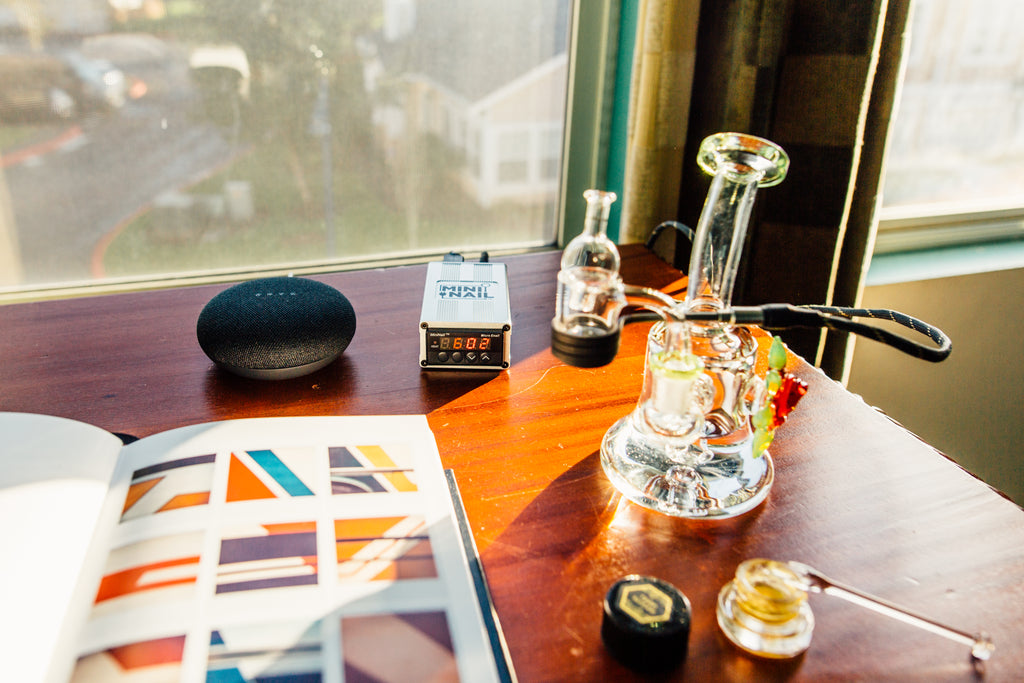 Let's be real here: something that you're really good at? Taking excellent dabs. Something you're probably not as good at? Remembering to do things like household tasks after you've taken said excellent dabs. In all, not ideal for making sure your MiniNail is up and running when you get home from work in the evening only to discover that you didn't plug it in to heat up before leaving and now have to wait for it to power up. 
Here at MiniNail, as fellow dabbers – we hear you. Frankly, there are few things that would make as many of our dreams come true as our own MiniNails unloading the dishwasher or developing consciousness.
Unfortunately, no matter how hard our scientists tried, we've yet to figure out how to equip our dab kits with artificial intelligence. On the bright side, we figured out how to make the MiniNail compatible with the rest of your smart home devices. And to us, that's the next best thing.
MiniNail and Smart Home Devices
If you're currently telling Alexa to set an alarm or asking your Google Home to play your evening cooking jams in the kitchen – you're using a smart home device. Now, you can add controlling your MiniNail to the list of things your undoubtedly genius in-home voice assistant is already capable of. All you need to get started is a 3 prong grounded Smart Plug that's compatible with your Google Home or Amazon Echo.
Not sure how to get started? The MiniNail can be automated in a variety of ways. Here are a few examples of how you can begin to integrate your MiniNail into your smart home system and make for the best – and most productive – dabbing experience.
How to Set Up Your Smarter MiniNail
What you'll need:
Amazon Echo or Google Home Device

A compatible Smart Plug

A smartphone for setup

Your MiniNail Kit
To get started, simply plug your MiniNail controller into the Smart Plug, and your smart plug into the electrical outlet, to set up controls. While your respective device set up and commands will vary based on its manufacturer, the good news is that your MiniNail will not! Find step by step instructions for setup here. From there, you can do a number of fun things. 
For Amazon Alexa:
First, make sure you have the Smart Plug plugged in with the MiniNail attached. 

Next, ask Alexa to discover devices. She will scan and select the smart plug, name it MiniNail.

From here you can add your MiniNail to any of your daily Amazon Routines or add it to a Room Group.
For Google Home:
First, make sure you have the Smart Plug plugged in with the MiniNail attached and iHome app downloaded. 

Add and name your device "MiniNail" into iHome's app by clicking the menu and Add Device. 

Login to Your iHome account to authorize Google Assistant to control the plug, and then test by telling Google to turn it on and off. 
Pro Tip: Sometimes you just can't wait. Try adding the skill to turn on your MiniNail when you are usually home from work so it is ready to use when you walk in the door.
To read more about how you can set these devices up for Google, Apple, or Alexa, check out tips and tricks provided by the NY Times. 
How to Time Your MiniNail
Who would have thought that Alexa and cannabis were a match made in heaven? One of the most basic and simultaneously most important tasks that your smart home device can accomplish is a timer for when you want to turn your MiniNail dab rig on and off. This is incredibly helpful for those of us who have a bunch on our to-do lists before heading off to work in the morning. For example, here are some Alexa voice commands you can use:
"Alexa, turn off the MiniNail when I leave the house"

"Alexa, power off the MiniNail at 10 pm"

"Alexa, turn on the MiniNail for 15 minutes"
Make your MiniNail's smart capabilities even smarter by enabling proximity detection for your device. This will essentially set your device up to sense when you're close to the device, so it'll power on when it senses that you're near and power off when it can't detect that you are nearby. Also, if you're not as picky about timing or just work from home, you can always simply turn your controller on and off using the more basic voice commands.
Smart Home Devices and Cannabis
What once seemed like the two most unrelated industries are now coming together and as thick as thieves. Lift.Co Magazine notes that today, we've come to a point in time with our tech that, "choosing how you want to get high means choosing between a wide array of high-tech devices that claim they can curate, track, and personalize – and thus improve – your cannabis experience."