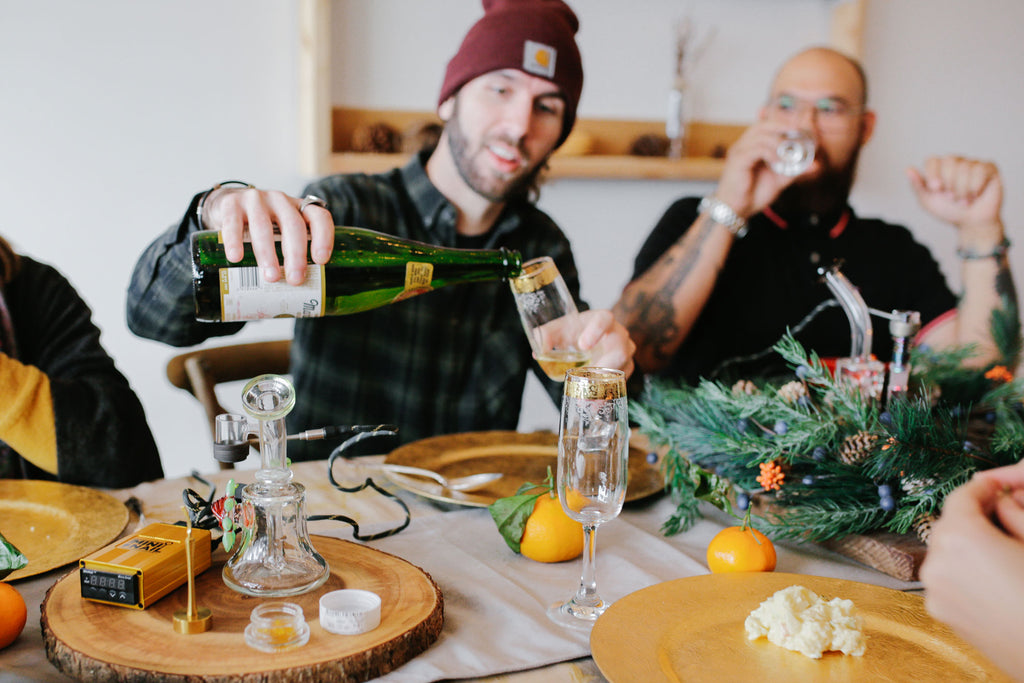 Fun Thanksgiving Stoner Ideas
This November, it might not feel like we have as much to be thankful for, but this holiday season is all about finding the good in otherwise bad situations, and Thanksgiving shouldn't be any different. Even though we won't be flying home to spend the day gorging on pumpkin pie and side dishes with our families this year, that doesn't mean we can't host our own feast. Even better, celebrating Thanksgiving on your own is the perfect excuse to incorporate a little bit of cannabis into your main courses and host a Danksgiving with your live-in homies.
So if you're one of many hosting a small Thanksgiving with your roommates this year, have no fear—this list of DIY decorations, easy edible recipes, and more will brighten up any indoor holiday vibes. And as always, crafting and cooking are two tasks best paired with concentrate. Be sure to keep your MiniNail Enail Rig close by for a few hits while you prepare your feast. Bong appetit! 
Corn Husk Cannabis Favors
Adapted from an idea from the unlikely Cannabis Queen herself, Martha Stewart, these cannabis curated party favors double as a dank table decoration. Welcome your guests with Welcome them with a place card that looks like a mini corn husk but holds a surprise: weed. The prep is simple but seriously dope. 
Cinnamon and Cannabis Pumpkin Candles
Okay, this might be the best idea we've ever had. Did you know you can make cannabis-infused candles that have healing properties and can even enhance the effects of THC when you light it up while you light up? Use this guide to create your pumpkin candle holder, and this guide to create your CBD wax, and voila! you have a perfectly festive weed candle. And while you're making wax, keep your dab close by to have some of your own. MiniNail's Flat Tip Dabber is designed to help you scoop out your concentrate from even the most difficult spaces, so it's perfect to use while you're crafting.
Cinnamon Sticks and Cannabis Place Cards
When it comes to setting the table, creating a seating arrangement with name cards is an easy way to elevate the look and feel of your festivities. We recommend putting a new twist on this old decoration to bring it to new heights by adding joints to the mix. Of course, crafting while dabbing can get a bit messy, so be sure to use MiniNail's Heater Coil Stand so you can easily go from dab to decorating. With cinnamon sticks and a joint tied together with waxed twine, you can provide your guests with a decoration and a dessert all in one. We recommend using this guide to create the structure, and encourage you to add as much cannabis as you like. Our tip? Instead of using glue to hold it together, tie the sticks with wax for easier dismantling. 
Weed You Can Feed Your Guests
Stoner Stuffing and Mashed Potatoes 
Everyone knows the real star of any great Thanksgiving dinner is the side dishes. If your plate isn't 50% stuffing and mashed potatoes, you're doing it wrong. And if eating our weight in carbohydrates is wrong, we don't want to be right. Of course, you can always make a good thing better by adding a little cannabis to the mix. This recipe for stoner stuffing and mashed potatoes is our magnum opus, a work of art, and a necessary addition to any Danskgiving table. Trust us, you won't regret making it.
Cannabis Cornbread
Hear us out: cornbread, but make it with cannabis. What could possibly be better? Cornbread is a staple serving at Thanksgiving—and, fun fact, it's a recipe that stems from Native American culture, and is probably one of America's oldest foods. This recipe for cannabis cornbread is as delicious as it is dank. Of course, the key to good baking is temperature control, so be sure to keep an eye on the oven as you go. On the plus side, getting the perfect temperature for your dab is much easier, thanks to MiniNail's Controller Box which lets you set the perfect temp every time. Don't expect to have any leftovers, especially if you take our advice and top this recipe off with a little cannabis-infused honey for a sweet finish to an otherwise perfect side dish. As the kids say, let's get this bread. 
Ganja Gravy
Don't want to commit an entire dish to cannabis? Might we recommend just making a ganja gravy to top off your turkey (and everything else) with a little extra je ne sais quoi? (Weed. It's weed.) The excellence in gravy comes from its versatility. Put it on potatoes, green beans, stuffing, hell, eat it all on its own (no judgment). This recipe for cannabis infused gravy is the perfect topping to your Thanksgiving dinner and beyond easy to make.
And there you have it. The key to a successful Danskgiving is a little creativity and a lot of cannabis (obviously). Sure, we might not be spending it with our family, but we can still have fun with our friends and some THC.