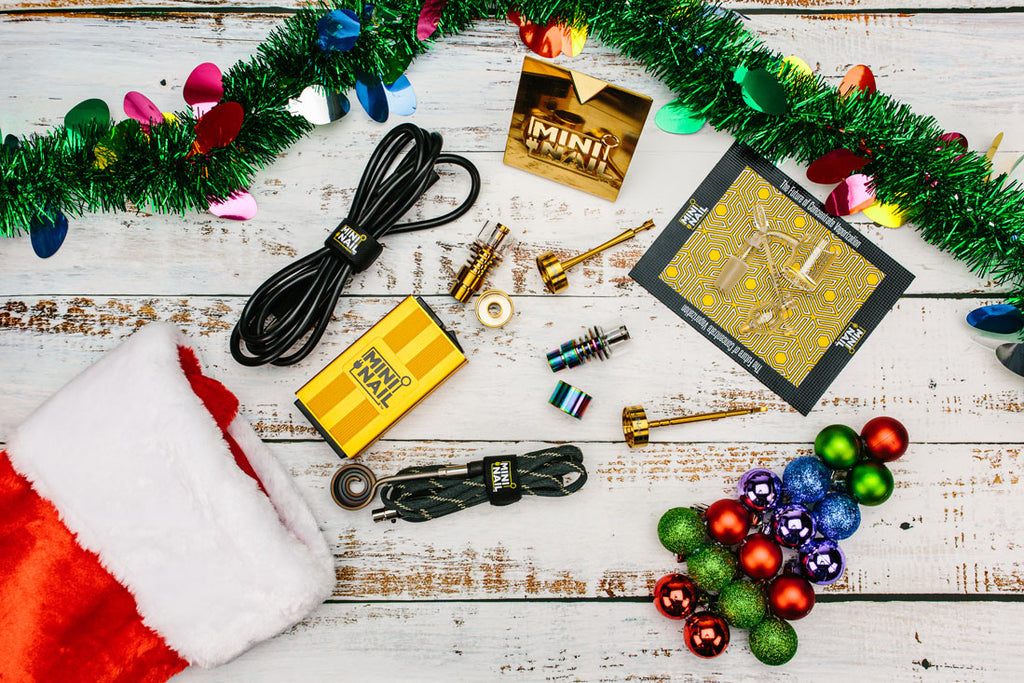 Holidays and blaze. That's our new motto for the 2020 holiday season. It seems the year we thought would never end is finally coming to a close, and even though it might not feel like we have as much to celebrate (because, you know, COVID) we can still show our friends and family just how much we care with a cannabis inspired gift. Because, let's be real, if there's anything we could use right now, it's treats that make our toking a little bit easier. MiniNail provides the best accessories and rigs for your e-Nail experience, with high-end titanium complete kits, dabbers, and more.
We put together a list of the best gifts at every price point for the dab kings and queens in your life to make your shopping easier.
Best Gift Under $30 Secret Santa
Heater Coil Stand
Hold your dabber without worrying about finding a place to put it down while it's still hot with MiniNail's Heater Coil Stand, because the only fire that should be burning is in your fireplace.
Heater Coil Guard 
Prevent burns and other accidents with MiniNail's Heater Coil Guard, because the holidays are usually filled with enough drama and we don't need to add unnecessary burns to that list.
Glass Shovel Dabber 
Scoop concentrates like Diamonds and Sauce with the MiniNail Glass Shovel Dabber, because the sleek design is a perfect match for all MiniNail products, so you can deliver glass and class all in one gift.
 Quartz Terp Spheres 
Make sure you utilize every last bit of your concentrate and keep even heat with MiniNail Quartz Terp Spheres, because they're new to our shop and they should be new to you, too.
Best Gifts Under $100 Stocking Stuffers
Titan XL Rig 
A recent collaboration with MJ Arsenal, the Titan XL Rig is designed for use with an E-Nail. Features a large base, a 14mm joint, and amazing function. A great addition to any setup.
Quartz Hybrid Nail
For your stoner friend who already has just about everything, you can't go wrong with the MiniNail Quartz Universal Hybrid Nail, because it's a one-size-fits-all gift that's easy to use and even easier to clean. Not to mention, it holds flavor and maintains the perfect heat.
Multi-Tip Dabber + Tip Pack
Get the most out of your concentrates with the MiniNail Multi-Tip Dabber, because giving the gift of the perfect scoop is truly the gift that keeps on giving and lets you savor every last delicious drop. And for your friend who's constantly changing their mind, give them the gift of options with the MiniNail Tip Pack. As a bonus, it's the perfect cannabis companion gift to the Multi-Tip Dabber. With this perfect pairing, the possibilities are endless. 
Banger + Bubble Cap + Terp Spheres 
Go big or go home with the combo gift of MiniNail Quartz Ebanger, Bauble Cap, and Terp Spheres, because there's no better time like the present (get it) to upgrade your dabbing setup. 
Best Enail Gift
Hybrid Complete Kit 
For that special stoner someone in your life, the MiniNail Quartz Hybrid Complete Kit is the perfect holiday gift. It has everything you need, including the Controller Box, Hybrid Nail, and Dabber, because they deserve it all this holiday season.